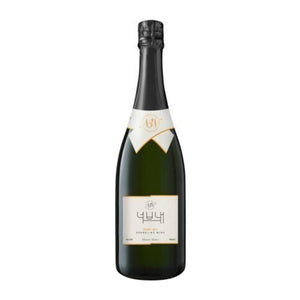 KAVE
Chateau Nadri Neobeunae Sparkling Wine 샤또나드리 너브내 스파클링 와인 韓國氣泡酒
Regular price
$648.00
$0.00
Unit price
per
"The first Korean sparkling wine ever!"
#FirstKoreanSparkling  #KoreanProsecco #韓國氣泡酒
[Chateau Nadri, Neobeunae] What kind of flavour?
Full of freshness and creamy bubbles are well-suited to the summer weather in Hong Kong! On your palate, various fruits such as lemon, ripe apple, pear, peach, melon will be balanced out with its lovely acidity and bubbly structure.
How about enjoying a time to tell differences between the classic Italian Prosecco or even Champagne and this first Korean sparkling wine?
[Chateau Nadri, Neobeunae] How do I pair with food?
Like any other sparkling wines in the world! You can enjoy as a thirst-quencher or it will cover the entire courses of the meal.
From Dim-sum, pizza, a cheese plate, or even Korean style buffet.
[Chateau Nadri, Neobeunae] Story behind it!
Chateau Nadri, situated in a mountainous countryside of Hongcheon, Gangwon province, has an ideal condition to produce lovely white grapes. The indigenous local variety called 'Cheong-Hyang(청향)' has an excellent ability to show characteristics of the region. 
The wine is considered a great representation of the future of Korean wine scene, nicknamed as Korean Champagne though its made with Charmat(tank)-method.
[Tech sheet]
*Shelf life: NIL
*Expiration date: NIL
*ABV: 12%
*Major ingredients: Grape
Shipping policy
Shipping & Return
Shipping Charges
We are happy to deliver anywhere within Hong Kong except for some remote areas.
For orders outside Hong Kong please send us your wish list and we will get back to you by Email,
Management@k-ave.com (10AM - 5PM / Monday - Friday)

The minimum order for free delivery is HK$1,200. Otherwise, the delivery charges vary depending on the type of products ordered and the service you select like below. 
See the table below for the shipping charges and delivery times:
Delivery Service

Price

Standard 1

九龍 Kowloon 구룡
For orders below HK$1,200

HK$250

Standard 2

香港島 Hong Kong Island 홍콩섬 and 新界 New Territories 신계
For orders below HK$1,200

HK$300

Either Standard 1 or 2 over HK$1,200

FREE

Remote Areas

長洲 CHEUNG CHAU

坪洲 PENG CHAU

南丫島 LAMMA ISLAND

喜靈洲 HEI LING CHAU

大澳 TAI O

大嶼山 LANTAU ISLAND (INCLUDING TUNG CHUNG and DISCOVERY BAY)

馬灣 Ma Wan

昂坪 NGONG PING

機場 AIR PORT

梅窩 MUI WO

沙頭角 SHA TAU KOK

文錦渡 MAN KAM TO

打鼓嶺 TA KWU LING

西貢 SAI KUNG

No Service
Delivery Dates: 
The delivery will take 3-4 working days (No service during Public holidays or Sunday) and the expected time slot of the arrival is between 9AM-6PM. Please let us know in advance by Email if there is an absence of the recipient in a certain day or time otherwise the goods will be returned and the delivery charge will not be refunded.
Please note: Extra HK$15 per floor surcharge will be added if there is no elevator or the product doesn't fit inside the elevator at any locations other than G/F.
The expected delivery times are estimates only. KAVE GROUP LIMITED will not be liable to you for any loss or damage. 
If there is no one at the delivery address to receive the Product, the Product will be returned to the KAVE GROUP LIMITED warehouse. 
Orders placed within Hong Kong or goods shipped to a Hong Kong residence are subject to the Hong Kong GST. Orders placed outside Hong Kong may be subject to the relevant taxes and duties applicable to the jurisdiction from which the order was placed.
Return & Exchange Policy
We hope that you're happy with your purchase. However, if you are not 100% satisfied with your purchase, you may return any item in its original, unused condition for exchange within 7 working days from receipt of goods.
Returns will be exchanged for credit note valid for 6 months. You may use the credit note in store or online.
How to Return: 
Request a Return ID number by management@k-ave.com Or, call KAVE GROUP Customer Services on Mon-Fri between 10.00AM to 5.00PM (HKT) at: +852 6096 0604. We will confirm the return request by email. 

Please include your "proof of purchase". This may be your invoice, bank statement, order confirmation from KAVE GROUP LIMITED, or delivery note.

Return the goods within 7 days to: 
Unit 504, Vanta Industrial Centre, Tai Lin Pai Rd, Kwai Chung, Hong Kong

Tel:+852 6096 0604

Please note:
All products must be returned in its original, unused condition, with all packaging intact within 7 days.

You are responsible for the cost of returning the goods.

The goods are your responsibility until they reach us and we have issued the credit note.

If you are exchanging an item, products can only be exchanged once.

Exchange will not be accepted on items in any way used, unprofessionally, cleaned & damaged or altered. Bottari reserves the right to determine the above mentioned conditions.
---
Share this Product
---