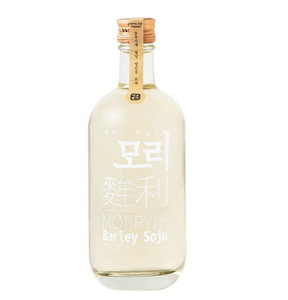 강산명주
Morry Barley Soju 모리 보리 소주 大麥燒酒
Regular price
$138.00
$0.00
Unit price
per
Barley Soju with ageing in the oak like a whiskey"
#BarleySoju #LightWhiskey #大麥燒酒
[Morry Barley Soju], What kind of flavour?
The delicate, savoury vanilla and spicy oak with a hint of sweetness from barley perfectly harmonize altogether on the nose. 

The distinctive mineral characteristics add complexity on the palate, delivering a beautiful balance rather than too much intensity.
[Morry Barley Soju], How do I pair with food?
We suggest a savoury and delicate dish without a strong kick for you to fully enjoy its overall medium intense and well-balanced characters. 
Steamed seafood or sashimi would be recommended while a delicate type of the soup will always be the best!  
[Morry Barley Soju], Story behind it!
The raw barley locally called Chalbori grown in Buan, Jeollabuk-do in Korea. The fermentation occurs soon after the polishing, resulting in the high quality.
The barley soju shares a lot of similarity with the whiskey, therefore an ideal way to explain the soju will be an approachable version of a whiskey.  

[Tech sheet]
*Shelf life: NIL
*Expiration date: NIL
*ABV: 19%
*Major ingredients: Barley
---
Share this Product
---